Is This A Harder Workout than Crossfit?
A System YOU can actually do from HOME – without a trainer – because it automatically ADAPTS to keep you burning maximum fat, week after week.
As you may know I am starting a new Challenge – Given that I spent the last 4 weeks doing a Clean Bulk – it's time I started to get RIPPED.
When I started losing from my top weight of 242 lbs down to 197 I was feeling AWESOME.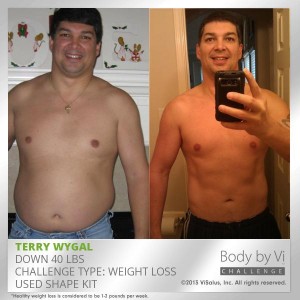 But I hit a Plateau.  Everything I did – the harder workouts – lowered the carbs even MORE…. ate LEANER Meats…. hit the treadmill and stairmaster like a FIEND…  Nothing – couldn't get past that dang 197lbs mark.  ( The picture to the left is me at about the 202 Lbs mark)
So we started a Clean Bulk and I popped up to 212 in about 4 weeks.
( YES Visalus Shake Mix was a Big Part of My Weight Loss) 
We did the Clean Bulk to shock the system and greatly reduced the cardio.
And during this time I found I had a TREMENDOUS amount of energy when I lifted.  In that 4 week period I gained about 15 pounds on my Dumbell Bench Press as well and my Dumbell Pull Overs.
( remember guys, I'm just an average joe than has found his way back into the gym – so chill out on the snide remarks huh? 😉   )
Anyway… my coach and I hit the level we wanted, 215,  and its time to slim back down.  BUT – I don't want to do a ton of Cardio.  Being in the gym for hours is not for me anymore.
After a little researching on the web I found Today's Workout Of The Day.
So here is today's Exercise – all Loaded up for you.  Watch it – Do It and Let's Get Sweaty!
The Workout Of The Day
12 Minutes – As Many As Rounds as You Can
5 Bodyweight Rows
Downward Dog to Upward Dog
19 Kneeling Pushups
15 Summo Squats
 This Episode Sponsored by CT-50 and Tyler Bramlett
Ready To Look Your Absolute BEST Without Cardio, Pills and STILL Eat Your "Comfort" Foods?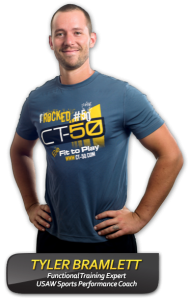 If you're ready to get started and see exactly how CT-50 kick-starts your fat-loss and fitness and practically forces you to keep hitting new goals without ever
hitting a "plateau" or getting bored…
Then click the "Next" button below, because the step-by-step specifics of the CT-50 System are waiting for you on the very next page (along with how to get started
today, with zero learning curve)…