Double Under Crossfit Demonstration
Jump Rope Double Unders For Beginners
There is a friend of mine that is doing a Challenge this year called the Crossfit Paleo Challenge.
Today he posted on his wall about how he  set a NEW Personal Record for Double Unders.
What Is A Double Under?
Now – if you are like me and have ZERO Rhythm – you know that if you try this without training you will probably do a Face Plant right off the bat right?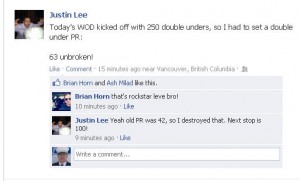 So what I did was head out and find a way to not only learn some Beginning Double Unders but to get Better and Better.
You see – we ALL know that Jumping Rope will crank that heart rate up faster than most any other exercise you do, right?
But – a lot of people will quit jumping rope because they never learned how to do it the right way.
How To Do A Double Under
Well – here you go – a Beginners Guide to doing exercises with a Jump Rope but ALSO some quality tips on how you can set your Personal Best in Double Unders.
Take a Watch – go out and Implement – and let us know YOUR Results.