Bodyweight Exercises
Video Demonstration of the Top 44 Bodyweight Exercises
Many people think that exercising has to be expensive to be effective.  That could not be further from the truth.  One of the best pieces of weight equipment is your own body. You can use your weight as part of your Workout Of The Day program.  One nice thing about using your bodyweight for resistance, you take it with you everywhere.  There will be no more excuses if you are on vacation that you don't have any equipment.  Bodyweight exercises can easily fit into a CrossFit program.
What Bodyweight Exercises Made The Top 44 List? Watch The Video to see exactly how to do them all
If you want to get a great workout for your arms, shoulders and back you might want to try handstand push ups.  If you can do a handstand then go ahead. If you can't then rest your feet against the wall for balance.
While on your hands slowly raise and lower your body several times. Squats are a great way to use the weight of your body. You will work your leg muscles and all of the other muscles in your lower body as well. Have your feet about shoulder length apart.
Slowing go down into a squatting position and then back up again. Once you have mastered that hold one leg out in front of you and try a squat with the other, then switch legs.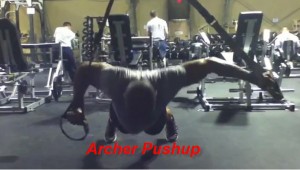 You probably already know how to do a push up.
While that is a great bodyweight exercise you can make it even better. Place one hand behind your back and do the push up with the other arm.  Switch after several rotations.
Want even MORE  INTENSITY in your Pushups?  Checkout the Archer Pushup in the Video.
BUT – What are the TOP 44 Exercises that you can do using JUST your Bodyweight?  Watch the video above to see for yourself.
This Post is Sponsored By
Insane Home Fat Loss
Think you have a workout one that is even better?  We want to see it! Just Submit your own workout or exercise that gets you into killer shape so we can share it with the rest of our subscribers.   Who knows – we may just Feature Your Workout of The Day on our Home Page.
*** Be sure and join our VIP Membership Area for Exclusive Tips and Strategies not available to the general public.