Eating Clean Is Essential To A Great Body!
Check Out These Recipe Examples To Keep Eating Right.
As we've reiterated time and time again, you won't see a six pack without eating clean! 70% Eating, 30% Gym.
However, this can be a challenge for some people because they don't know how to start eating clean, or even what to make!  This is where I'll help you by posting some smoothie recipes that will delight your taste buds, while not killing your wallet or your health!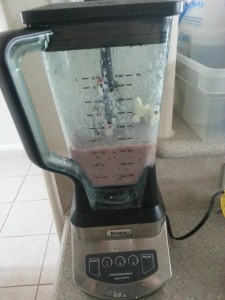 First off, let's talk about smoothies.  They're a great way to get a lot of nutrients, while tasting super sweet!  I love adding spinach in mine to sneak in even more essential vitamins and minerals, but that's completely optional.
In the smoothie pictured, I put in a banana, a handful each of blueberries and raspberries, and 1.5 cups almond milk.  Of course, the best part of smoothies is that you can make them taste like however you want. My dad likes to add visalus and pb2 to make a pb&j flavored protein shake, while I like mine with lots of bananas!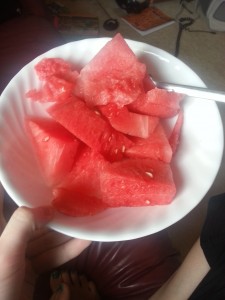 This should be really obvious, but FRUIT.  If you keep fruit around, and veggies, you will eat healthy!  Now that it's summer time watermelon will quickly become a staple around my house!  It's a way to stay hydrated, eat clean, and have something really sweet right on hand.  Personally, I like to blend a little bit up then add water to it so I'm drinking watermelon flavored water!
Be sure the check back next week, as I'll be posting more examples of clean eating!