Olivia's Workout Day
Day Two Of Her 30 Day Strength Challenge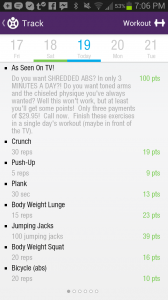 Workout: My workout of the day was relatively easy going, though the jumping jacks really got me going!  I did a workout featured on Fitocracy for a fitness quest, but went a bit over what I was supposed to do.  I really hate lunges though, I always feel so awkward doing them!
I didn't go running today because MAN that Texas summer heat is in full swing!  Tomorrow I'm planning on making it a Running/Yoga/Kettlbell day though, so be sure to check back.
Nutrition: As you've probably picked up on, I eat a LOT of vegetables.  Today I had grilled fajita veggies with pico and guac for lunch and dinner, with almond butter on toast for breakfast.  There's going to be a store run here real quick, because I'm eating all the fruits almost as soon as they're in the house!
Progress: I can't say anything for my strength yet, but I'm able to go longer and not get discouraged in the first five minutes of my workout.  Also I've noticed an overall positive change in how I feel, which I attribute to my clean eating!
Terry's Workout(s) Of The Day
Workouts: Terry did TWO different workouts today; first he worked out his chest, triceps, and calfs!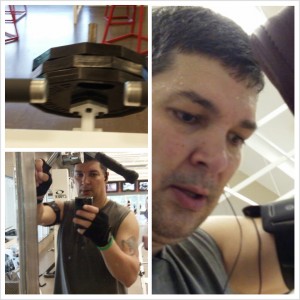 TRICEPS
Skull Crushers 4 x 15
Kickbacks 4 x 12
2 handed reverse grip pull downs 4 x 15
1 Arm rope Pulldowns 4 x 12-15
Dips (Raise Knees Up) 4 x 12-15
CHEST
Flat Bench Dumb bell Press 4 x 15
Incline Barbell Press 4x 15
Dumb bell Pullovers 4 x 10-12
Decline Dumb bell Flyes 4x 10-12
Seated Machine Flyes
Dips (Feet behind you) 4 sets to failure
CALVES
3 exercises machines each time. 8 sets to failureNutrition: Today, he had another pb&j visalus shakes, oatmeal, and oven baked tilapia.  He also had white rice with edamame.