BIS And TRIS Day BABY!
BUILDIN BIG GUNZ!
Today's Workout Of The Day – Bicep and Triceps Workout
Today's Featured Workout comes from Kaelin Tuell – Ifbb Pro
Kaelin was in the final days before her Pro-Card Contest and posted this Bicep and Tricep exercise:
4 ROUNDS:
20 – 1 arm ISO DB curls
20 – Hammer DB Curls
20 – Seated DB Curls
20 – Standing Barbell Curls

4 ROUNDS:
20 – skull crushers
20 – 1 arm cable pull downs
20 – 1 arm cable push downs
20 – Dips
3 ROUNDS:
50 – straight bar Cable Curls
50 – straight bar Cable Push down
This is Kaelin Tuell and her Visalus 90 Day Challenge Transformation Story: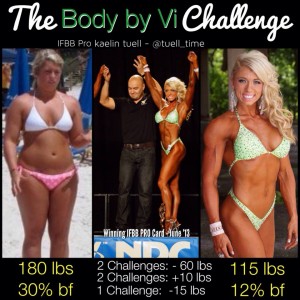 My Journey all started with being TRICKED into trying a
Visalus shake
…  & NOW I'M AN IFBB PROFESSIONAL FIGURE ATHLETE!!!
I was 180 pounds – with not only an unhealthy body and weight to lose but horrible blood pressure, cholesterol, low self esteem, depression, low energy, etc from my poor choice of lifestyle & eating habits!
I was drinking around 10 cokes a day & a Fast Food Junkie! I never thought I was going to be able to change my lifestyle and had given up hope on ever getting healthy because I thought it was too "hard" & "expensive" for me.
I was super skeptical & had tried everything out there – the ONLY reason I started the Challenge was because there was a money back guarantee and I just thought I would be getting my money back after it didnt work (& at least that would be more that I got from the other stuff I tried!)I started on the Transformation Kit and lost my first 10 pounds in my first 10 days! I became addicted to the Butterfinger shake – did two shakes a day and not only did i lose weight, but it taught me how to transition into having a Healthy Lifestyle!
After losing my first couple pounds I was excited and confident enough to start taking bigger steps –
I thought to myself:
"If  I've already lost 15 pounds doing nothing but drinking 2 shakes… what happens if……"
I start exercising 30 min 3X a week?
OR instead of pizza for dinner i have grilled chicken?
OR instead of candy for snacks – i have fruit?
OR instead of drinking 10 cokes a day … i try to cut that in half & have water too?
This process started snowballing & eventually my entire diet & LIFE CHANGED!
I started Challenging myself 90 Days at a time to become the Healthiest & Happiest ME!**My Journey of Challenges Continued like this:
*I Lost 35 pounds my first 90 Day Challenge!
*I lost 25 pounds in my second 90 Day Challenge!
*Built 10 pounds of muscle during my next 2 Challenges!
*Leaned Down ("cut") -15 pounds for my very first Figure Competition!
*I ended up placing FIRST in my Class & WINNING THE OVERALL FIGURE CHAMPION at my very first show!
Winning Qualified me to compete with the Top Amateur Figure Competitors in the Nation at the NPC Junior Nationals in Chicago – where ONLY the Winner of each Class receives an IFBB Pro Card & becomes an IFBB Professional Figure Competitor…***I WON FIGURE CLASS B at Junior Nationals and just became a NEW IFBB Pro FIGURE COMPETITOR in ONLY MY 2nd SHOW EVER!!!
(That is the LOWEST number POSSIBLE.)
SUCH AN AMAZING FEELING to be able to show others that ANYTHING is POSSIBLE!
20 months ago i was 180 pounds and extremely unhealthy – Visalus & The Challenge have completely changed my life around! Its not just the product that I used every step of the way (including my entire contest prep) but the Challenge Mentality and the Supportive Community of people that make the results happen!
IF I CAN DO IT … SO CAN YOU!!!!
**"DONT LET ANYONE TURN YOUR DREAM INTO A CEILING!"**
– Kaelin
— Start Your Visalus 90 Day Challenge Today – Watch this quick 7 Minute Video To See How We Are Changing the Health and Fitness Industry