How to Avoid The Vicious Stop and Start Cycle of a New Exercise or Diet Program That Crushes Most Peoples Chances For Success at Losing Weight and Getting Fit
Know anyone that has ever started and quit an exercise program? or Diet?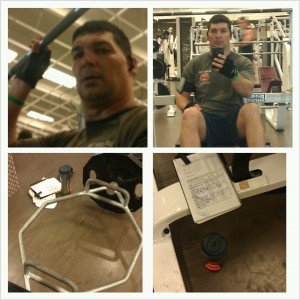 Sorry, I know – I know – stop laughing now – this is serious.
1 MAIN reason People FAIL in their exercise/diet gameplan is this:
BEFORE Beginning an Exercise Program if you just make this quick little tweak mentioned here in this video from The Workout of The Day I personally feel your chances of succeeding with your GOALS will increase Dramatically.
What is this Mystical Magical Critical Tip?
Why – Simply this – Start at where you are Comfortable.
What I mean is this – Don't let people tell you to go do a 5 Mile run or a 40 minute StairMaster climb  when you have trouble going up a flight of stairs.  
( I would get winded after just a COUPLE of flights myself when I started out)
And for Starting a Diet – Look – the Worst thing you can do when starting a diet is go on some sort of crazy starvation diet.   I had someone try and convince me that a 700 Calorie Diet was GOOD for me.  Are you FREAKING NUTS???  Do you KNOW what that does to your body?
The 2nd worst thing you can do when starting a diet is this – When you have a Cheat Meal – or Snack – and you WILL have one I promise – Don't beat yourself up over it.
Now – that doesn't mean that you go eat an entire Buffet ok – take it for what I am saying.  A Cheat meal or Snack… 
I would hear people that just beat themselves up over missing a workout or a eating a meal that wasn't exactly what their coach said – and they let it eat at them internally to the point where they quit – they just stopped.
Don't Do That!  Just move forward and control the urge to splurge then next time.  ( I use my Visalus Shake Mix and Nutra Cookies to curb my appetite – used along with the Meal Suppressant Vi-Trim and Metabolism Booster Vi-Slim I have Healthy Snacks and don't get hungry in between meals )
Look – by taking this one little mindset I have worked my way up to an HOUR on the StairMaster, I do some pretty heavy exercise Super Sets now and I have dropped over 35 Pounds.
And I – LIKE you probably – have started and tested more Workout Programs and Diets than most people I know.    And this is the First time in the last 2 Decades that I have stuck with it.
Let's hear from you – WHAT helped you maintain Your Exercise Program or Diet – — OR – What is holding you back.  We love to hear from you so don't be shy…
Terry Wygal