I have a challenge for the blog readers! It's a 30 day Crunch Challenge, and by the end of it you'll be able to 150 crunches.  If you start TODAY, you'll be so much farther on your fitness journey, and you can chronicle it as well!  Here's the challenge: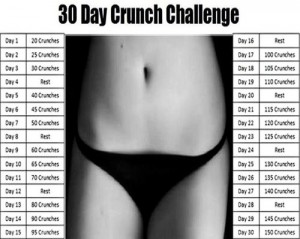 I think it would be great to do 150 crunches by the end of one month, and super interesting to see the results!  I challenge everyone to post before and after pictures on this, because seriously this is such a great idea.  I'm working on my abs, so if by June I'm able to do 150 crunches, my stomach will look GREAT because of all the clean eating smoothies I've been doing as well.  My twenty crunches for the day are done (I'm using a stability ball), and I'm really excited for this!
Submit your before pictures to us on our facebook page, https://www.facebook.com/theworkoutoftheday , and then the after picture when 30 days is up.
The 30 Day Abs Challenge is Coming!
Are YOU Up For It?
To Get On The Early Bird Notice List!