Need A Great After Workout Meal Filled With Protein?
Try This Simple, Delicious Recipe!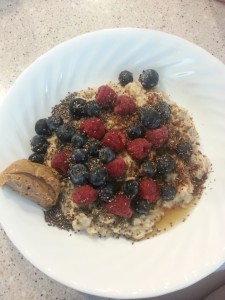 Do you see how delicious this looks?  I guarantee you it tastes even better! AND (this is the best part), it's insanely healthy for you.  This is a great post workout snack that delivers a whooping 21 G of protein per serving if made like I did, but with extra goodies you can easily make it have twice that amount!
This was so sweet, that I've started having this and variations of it for breakfast almost every morning now, to start my day off right, clean, and healthy.
Here's the recipe:
1/2 Cup Of Oatmeal (I like rolled oats, or steel cut)
1 Cup Of Milk or Water (I use Almond Milk)
1 TBS Chia Seeds
2 TBS Flax Seeds
Handful of berries of your choice
1 serving almond butter (I used more an extra protein kick, you can also use PB2)
Agave Nectar to sweeten (optional)
Things you can add:
Protein Powder (Just add a bit more liquid)
More Fruit
Hemp Seeds
Almonds
Sliced Bananas
Whenever I make this for my dad, I add in protein powder (he LOVES visalus), but keep everything else! The Chia Seeds and Flax seeds really make this, because it offers a bit of a nutty taste to it, as well as providing more protein, fiber, and other really great vitamins and minerals!  They're completely optional, but I really love the nutritional boost.  It's clean eating, and tastes SO good, what could be better?
Comment below and tell me how you liked it, and what else you added to it!